Blood Red Sunrise on the 2012th Anniversary of the Divine Birth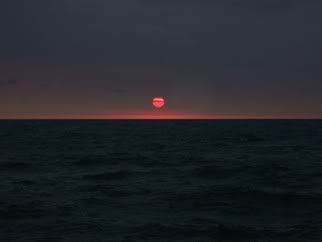 Today was the 2012th Anniversary of the birth of our Lord God Jesus Christ in 6 BC. The sun rises here in Chicago, the 41st latitude north - the same as Rome - at exactly 5:55 am which is the beginning of the Leo (356th) minute of the New (555) day which is in correspondence with the Winter Solstice ending at the end of the Leo (356th) day of each new year. Leo (356) is the sign of the Divine Birthmonth of August whose ruling planet is the Sun and which corresponds to the Human Heart. March 8, 2006 in the year 2006 is Jesus (15131) days from 20470811 which is the end of the 23rd "I Am" cycle of 89 "Prime of Leo (356)" years since the BC-AD mark.
Here's the video of the actual sunrise at 5:55 am
FREEDOM TO FASCISM - AARON RUSSOS MUST-SEE FILM
Thursday, August 03, 2006
Freedom to Fascism - A Must-See Film by Aaron Russo - by Stephen Lendman
Aaron Russo has produced an important and powerful documentary film titled Freedom to Fascism that should be must viewing for everyone. It's now playing in theaters in selective cities around the US and hopefully will be shown abroad as well as what happens in the most powerful country on earth affects all others for better or worse. No one seeing this film will doubt it's frighteningly for the worst.
Click here for more..